ARTICLE 1
All persons in the Netherlands shall be treated equally in equal circumstances. Discrimination on the grounds of religion, belief, political opinion, race or sex or on any other grounds whatsoever shall not be permitted.
ABOUT THE WORK

From 1798, the wording of the principle of equality changes as many as six times, to the version quoted above, which has only been in existence since 1983. This shows that our ideas about equality continue to evolve. The artwork depicts this development by portraying champions of this principle of equality. With advice from Prof. Dr. Sawitri Saharso, Professor of Citizenship and Moral Diversity, and Prof. Em. of Modern Political History of the Netherlands Mieke Aerts, well-known and lesser-known Dutch people have been chosen who have played an important role in the Dutch understanding of equality, in the public debate about it and/or the fight against inequality and discrimination. It is not a complete list of all forms of emancipation, but a representation and concretization of the general principle of equality, as expressed in Article 1 of our Constitution. It is a representation of eleven exceptional, courageous, fierce and inspiring Dutch people, who fought with words and deeds for acceptance and emancipation. This way the artwork not only emphasizes the efforts of citizens that preceded this wording of Article 1, but it also serves as an appeal to our necessary commitment to preserve the survival and further development of equality for everyone in the Netherlands.

Order from left to right in the artwork


ANTON DE KOM
(1898-1945)
Writer and activist against racism and colonialism
As a teenager, De Kom already advocated for the interests of uneducated workers in Suriname. After a period in the Netherlands, he, meanwhile married to a white woman (very unusual at the time), returned to Suriname. Here he founded a consultancy, where he successfully made citizens aware of their rights. The authorities feared unrest and imprisoned De Kom. A large crowd came out to support him, whereupon soldiers opened fire, killing two. To prevent further escalation, he was exiled to the Netherlands. In 1933, he published
Wij slaven van Suriname
(We Slaves of Suriname) in which he told the history of Suriname from the perspective of the oppressed.
'No people can reach full maturity as long as it remains burdened with an inherited sense of inferiority. For that reason, this book aims to rouse the self-respect of the Surinamese people.'
His book was banned during the German occupation, but De Kom continued to write for the underground press. In 1944 he was betrayed, arrested and ended up in concentration camp Sandbostel, where he died, five days before the liberation.
Read more at
Canon van Nederland
CORRIE TIJSSELING
(1966-heden)

Scientist and activist for equal treatment of the deaf and hard-of-hearing

Tijsseling has been campaigning for the rights of people with disabilities, in particular the deaf and hard-of-hearing, for thirty years. Tijsseling is deaf herself and has had to conduct lawsuits and objection procedures to obtain an interpreter of Dutch Sign Language during her studies, and again to make this possible for her work, so that she could make a career. This is what drives her to work for equal rights. Tijsseling wants to make society accessible to people with disabilities. For example, together with others she worked on the ratification of the UN Convention on the Rights of Persons with Disabilities, so that, for example, an interpreter of Dutch Sign Language was present on stage at the Covid press conferences, the Wet Centraliseren Tolkvoorzieningen (Act Centralizing Interpretation Facilities), and the Recognition of Dutch Sign Language Act. Since July 2021, Dutch Sign Language has been recognized as an official language by the Dutch government.

ROOSJE VOS
(1860-1932)

Feminist, trade union leader and member of the Provincial Council of Groningen

Vos grew up in Amsterdam and trained as a seamstress here. When the first women's trade union was founded in 1897 on the initiative of Wilhelmina Drucker, Vos became the chairwoman. She also edited their trade journal, De Naaisterbode for many years. In 1903 she moved to Groningen and became the organizer of the great tailors' strike. She became more and more politically involved, advocating in speeches for an eight (instead of ten) hour work day and women's suffrage. In 1919 she was elected a member of the Provincial Council of Groningen, which she remained until 1927.

MAXIM FEBRUARI
(1963-heden)

Judicial philospher, lawyer, writer and columnist

Februari writes sharp-witted and humorous columns and essays, in which the right to equal treatment of all people, including transgender people, is central. He published under various names; M. Februari and Marjolijn Februari. In 2012, he transitioned from female to male and the following year he wrote the candid and accessible book The Making of a Man. Notes on transsexuality about this proces. In 2020 he received the PC Hooft Award for his entire oeuvre.

JOKE SMIT
(1933-1981)

Feminist and writer

With her article 'The Discontent of Women' in De Gids, Smit gave the go-ahead for the second wave of feminism in the Netherlands in 1967. Because of the many reactions to her article, she founded the action group Man-Vrouw-Maatschappij (Man Woman Society) in 1968, together with Hedy d'Ancona. MVM was mainly committed to women's emancipation by lobbying for policy changes at the government. Smit became politically active in various ways and strongly criticized sexism in party politics. In 1973 she called on the cabinet to implement an 'emancipation policy' and thus initiated the Equal Treatment Act of 1981. Smit was a proponent of radical equality thinking and always considered herself a social democrat, because women's emancipation should be for all women.

JAN BUSKES
(1899-1980)

Pastor, socialist and resistance fighter

Buskes was a pastor, also known as 'The Red Pastor', on Texel and in Amsterdam and Rotterdam. Buskes was a defining member of the Christian anti-militarist association Church and Peace, and opposed any ideology behind militarism. In the 1930s he became a fierce anti-Nazi and during the German occupation he devoted himself to, among other things, hiding and sheltering Jewish people and writing for the underground press. On May 5, 1945, he concluded a speech to the resistance with:

"The Watchword remains: Loyal to The Truth in a Free Netherlands."

After the liberation, he spoke out through publications and sermons against the colonial wars of reconquest (the 'Police Actions'), apartheid in South Africa and racial segregation in America.

BENNO PREMSELA
(1920-1997)

Industrial designer, interior designer and gay rights activist

During the German occupation the Jewish Premsela had to go into hiding for years. His parents and sister were murdered in Auschwitz concentration camp. After the war, Premsela became a member of The Shakespeare Club, an association for homosexuals, as one of the few openly under his own name.

"The end of the war meant liberation. Nothing could happen to me after what had happened to me."

Premsela became a leading Dutch industrial designer in the 1950s and 1960s. From 1962 to 1971 he also held the chairmanship of the COC, Culture and Leisure Center (formerly The Shakespeare Club). In 1964 he was the first Dutchman to appear on television under his own name and fully out his homosexuality. In a controversial television interview, he denounced discrimination against gays as a social injustice.

MARTEN DOUWES TEENSTRA
(1795-1865)

Writer and activist for the abolition of slavery

Teenstra worked as an overseer of roads and bridges in both Java and Surinam. Partly on the basis of his observations on the spot, from his hometown of Groningen, he campaigned steadfastly against slavery in Dutch overseas territories. He wrote numerous articles, publications and also petitioned the House of Representatives for the liberation of the enslaved. He just lived to see the abolition of slavery in 1863.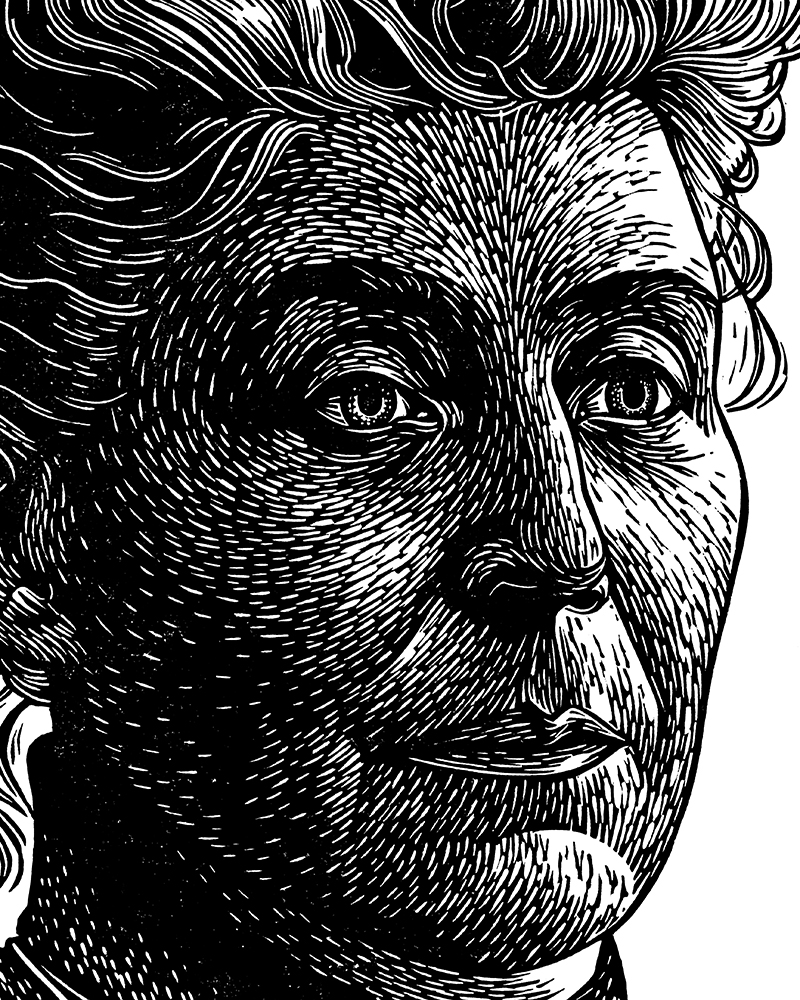 WILHELMINA DRUCKER
(1847-1925)

Radical feminist, freethinker and writer

Through her publications, speeches and initiatives, Drucker became one of the most important Dutch feminists. She advocated for women's rights in general and equal opportunities for women alongside men. As founder and leader of the Free Women's Association, she traveled through the country to advocate for women's emancipation, and in 1894 founded the Association for Women's Suffrage. She inspired many feminist initiatives at home and abroad, such as, among others, Women's Consultation Second International, Comittee on Statutory Regulations on Women's Labor and Mutual Protection of Women. With her magazine Evolutie (Evolution), founded in 1893, she was one of the most radical champions of women's rights for decades. She wrote about such matters as religion and morality in a frank and critical way for the time. She was also fiercely anti-colonial. In the 1970s, she became the inspiration for the Dolle Mina movement named after her.

ROESTAM EFFENDI
(1903-1979)

Anticolonial activist and politician

Effendi was a leading member of the PKI (Communist Party of Indonesia) and strived for independence in Indonesia. To avoid arrest, he moved to the Netherlands in 1927 to study, where he also became politically active. In 1933 he was the first (and only) Indonesian elected to the Dutch House of Representatives, for the Communist Party of the Netherlands. Here he argued for Indonesian independence, and until that was the case he demanded more Indonesian MPs. He was a fierce debater but often intentionally made his speech difficult to understand, so that the chairman would not thwart his 'controversial' statements. During a trial for anti-colonial activities, he said:

"You ask me what I have come to do in the Netherlands. I answer you with a question in return: What did you and yours come in Indonesia to do? I come here as a representative of sixty million Indonesians. I'm going here in parliament in the midst of our enemies to make Indonesia's voice heard."

FERDINAND DOMELA NIEUWENHUIS
(1846-1919)

Freethinker, writer, activist and founder of anarchism and socialism in the Netherlands.

After studying theology, Nieuwenhuis became a pastor in Harlingen, Beverwijk and finally The Hague. He also committed himself to the Peace League, in protest against the Franco-Prussian war. His religious beliefs declined during this period and his interest in social issues grew. In 1879 he resigned his position and became active in the freethinkers' association De Dageraad (The Dawn). He became editor of the first socialist weekly in the Netherlands, Recht voor Allen (Right for All). He became the founder and foreman of socialism and later anarchism in the Netherlands, the SDB (Social Democratic Union). He was radical and consistent in his views in his personal life; for example, at the end of the nineteenth century he was a teetotaler, vegetarian and non-smoker.

The SDB exposed social abuses and campaigned for workers' rights and universal suffrage. Nieuwenhuis argued internationally for general strikes at the outbreak of war. This is how the SDB grew, partly due to Nieuwenhuis, into the first socialist mass movement.

TYPOGRAPHY


The type used in the artwork comes from the collection of GRID Graphic Museum Groningen. Some of this type is part of the former inventory of Hendrik Nicolaas Werkman. Werkman was a printer, but above all an artist, from Groningen. He was active in the first half of the 20th century and with his experimental 'druksels' (printings) he revolutionized the graphic technique. During the German occupation he devoted himself to the underground press; he illustrated the Chassidic Legends in the resistance magazine De Blauwe Schuit (The Blue Barge). He also hid and sheltered Jews for years. In March 1945 he was arrested and a few days before the liberation he was executed.
COLOPHON


Artwork by Jan Hamstra

December 2021

Commissioned by Groningen Province

Many thanks to prof. dr. Sawitri Saharso, prof. em. Mieke Aerts, dr. Corrie Tijsseling, Maxim Februari, De Unie Architecten, Jelle Bijker, RCG, Marjolein Kamphuis, Eva Staal, Margriet Staal - de Wit, Dennis Hoogeveen Consultancy, GRID Graphic Museum Groningen and Fronique Oosterhof.